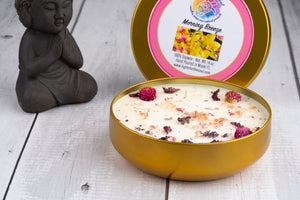 Natural Living in a Modern World
Eco-friendly, with clean and organic ingredients
we are a brand with purpose... cruelty free and sustainable
Testimonials
These beautiful soaps are awesome! They are as wonderful in person as they appear in the photo, and they smell delicious. My favorite is Strawberry. I love that they don't test on animals (a big thing to me) and are good for sensitive skin.

John M.
I'm always looking for good-smelling soaps. I ordered these because there were a variety of scents, the soaps were individually wrapped (keeping the soap fresher, longer - and keeping the smells from getting all mixed up), organic, natural, in pretty colors and wrapped in a sweet little package, perfect for a gift.

Louis Johnson
This soap smells SO good (regular size bars!), they are large enough for several showers (plenty to evaluate whether you actually like it)

Jenny Smith
They certainly smell nice and I am sure my sister will like them. They are the perfect gift for everyone.

Michael Thomson
Beautifully packaged, super organic, this lovely soy wax candles made my room and my entire house so pleasant. It's still surprising to me how much positive difference it makes to catch whiffs of natural fragrance like these candles as I walk through my house. I will consider these good additions to my future choices for gifts to friends and family.

Katherine C.
Natural Products Can Change Your Life
organic care products are less likely to cause allergic reactions, inflammations or irritations
Keeping your skin looking healthy and radiant is important, because healthy skin is one of the biggest indicators that tell us whether we are healthy on the inside too. In fact, the skin is the largest organ of our entire body, so we really should treat it with care.
Why our products are so beneficial for day to day living
Benefits of Peach and Black Tea
Both black tea and peach are rich in vitamin B2, C and E. In addition, black tea contains minerals such as magnesium, potassium, zinc and has polyphenols and tannins, all compounds that help fight the redness of the skin , And protect it from stains, attenuating the effects of age.
Benefits Hibisco and Honey
Benefits Hibisco and Honey
Honey renews your skin for its high levels of collagen, while the flower of hibiscus have amazing cosmetic properties that it has come to be called the "vegetable botox", rich in antioxidants and vitamin C.
Enjoy a smooth and perfect skin with our lotion candles
Aluminum Free, Parabens Free
The best soap for your skin, 100% glycerine, enriched with essential oils